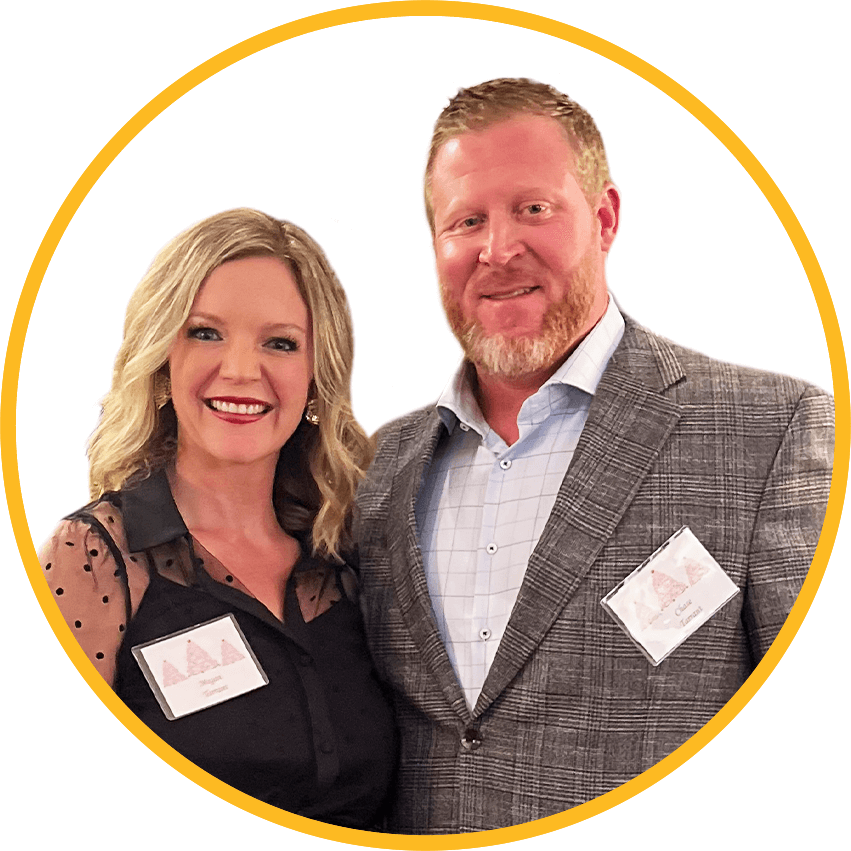 In 2023, Clements Fluids is celebrating 16 years of purpose-led, second generation leadership. Take a look at how Megan and Chase Tarrant have upheld the family legacy through faith, leadership, and excellence!
At Clements Fluids, our mission is to unearth, uplift, and unleash the God-given potential in every well and person we encounter.
The company began with the dream of a couple, Mike and Donna Clements, in 1985.  Founded in Henderson, Texas the Clements combined their experience in the oil field with real estate skills to lay a humble foundation. 
Clements Fluids is a purpose-driven family business, having now provided fluid solutions for the oil and gas industry for decades. Mike saw opportunities for progress and established a core business model that continues today.
Reach Through Relationships
Under Mike's leadership, the company grew at a staggering rate. True to the Clements' way, they serviced the entire life cycle of the well and offered several different fluid solutions.
This service model aimed to support the operator and unearth the wells' full potential.
Starting with just one location in Henderson, Clements Fluids now has ten across the country. Service spans from Oklahoma, over to New Mexico, across to Louisiana, and down the Texas-Mexico border. They value relationships and customers as they continue to expand their geographic footprint.
In 2007 the oldest daughter, Megan and her husband, Chase Tarrant, joined Clements Fluids. Chase and Megan discovered their passion and dove into the oil industry. Megan started in accounting and Chase started by painting tanks at the Henderson yard. The couple grew in their responsibilities and roles as Megan progressed to CFO and Chase was promoted to outside sales, managing operations, vice president, and then president. Chase brought technical expertise as president, while Megan's accounting background promoted data-driven decisions as CFO.
There were only two locations when the Tarrant's joined, now seeing a 400% increase in locations. Megan's commitment to Clements Fluids allowed her to work alongside her father as she fostered natural leadership skills of her own.
Although Megan thought she could position her husband Chase to lead out the company, she realized that this may be her divine purpose. Instead of leading out at Clements Fluids, Chase always had a strong desire to mentor youth as a coach, and he was fully supportive of Megan's decision to step up as the head of the company.
In 2019, Megan saw an opportunity to add to the legacy of her father and become the CEO.
This was not an easy transition for Megan as she desired to spend more time at home with her two children, but after seeking help from God and counseling she was asked,
"Do you think God would give you these gifts of leadership and expect you not to use them?" This was the confidence Megan needed to move forward.
"I knew I had to jump in with both feet because I believed this was a huge opportunity," Megan said. "It may not be the norm of me taking over the business, but I knew both Chase and I needed to follow our passions."
Clements Fluids has been in business for more than 37 years, and not many service companies have withstood the countless ups and downs in the oil industry. This reflects their values, as they seek to identify where all employees can serve to be successful.
The leadership team evaluates employees with a wide variety of backgrounds, including hiring a technical engineer into a sales position. They try to look above the weeds and foster a sense of purpose and principles for Clements moving forward.
As Megan transitioned to CEO, she was soon forced to make hard decisions with the 2020 pandemic. It was a time to connect with the staff, to evaluate who wanted to step into big roles and help build up a renewed Clements Fluids reputation.
Acting swiftly in the crisis, leadership was able to navigate the pandemic and proved successful.
"We were able to anticipate the needs of our customers and get several new clients because we had product during the supply chain shortage," Megan says. "Instead of ordering product and hoping it comes in, we separated ourselves because we were proactive. We worked smarter not harder."
In 2021 and 2022, Megan really focused on the core of the company and created action within the organization around the four key values: relationships, integrity, commitment, and excellence. She flattened the organization so she could have directors directly reporting and upholding the standards she worked hard to foster.
The changes paid off as Clements Fluids doubled revenue in 2022.
"Our purchasing power is larger, but we have also tremendous investment in our people," says Megan, citing one recent hire that came all the way from Portugal. "When people interview with our company, they can feel the difference."
Success as a Woman-Owned Business
With 16 years of leadership, Megan and Chase are excited about the future. In 2023, Clements Fluids will receive certification as a woman-owned business.
Megan knows it is unique to be a woman-owned company in the oil industry, and she says she could have easily chosen the path of least resistance. There have been several obstacles to overcome in the process, but Clements Fluids has a bright future.
Many organizations and boards are pushing social and government initiatives to be more inclusive to women, and this company can help them achieve that vision. Locally, the Tarrant's give back to the community and are passionate about impacting lives generationally. Their commitment to people is evident in their family, their coaching, their relationships, and especially at Clements Fluids.
"I am very passionate about understanding your strengths and understanding your calling," Megan says. "When you understand your calling, you can move mountains."